Article originally posted on www.insuranceneighbor.com

(opens in new tab)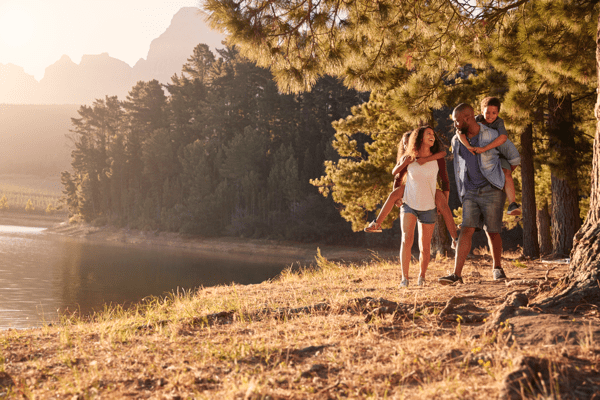 Summer means sunshine, longer days, and more time spent outdoors. It is a great time of year to get active and stay healthy. The following are some things you can do to help you stay active.
Take a Dance Lesson: Many clubs across the country offer dance lessons for free or for a small cover charge. You don't have to be an experienced dancer to enjoy it. Dancing makes exercise fun!
Go Swimming: If you don't have your own pool, make use of a community pool in your area. Swimming is healthy, low-impact exercise and a refreshing way to beat the heat.
Take a Hike with a Friend: Hiking on a local trail is a free fitness activity that gets you out in the great outdoors to enjoy nature. For even greater fitness benefits, add sprint intervals to your hike.
Plan an Active Vacation: Plan your vacation around camping, hiking, kayaking, snorkeling, scuba diving, or any another enjoyable activity that allows you to spend time outdoors and get plenty of exercise. If you are vacationing in a city, consider walking or biking as opposed to riding in a vehicle to get around.
Fly a Kite: This is a great way to have fun with the family and spend time outdoors. You can buy an inexpensive kite or make your own.
Be Social: Get away from your computer or TV and head out to socialize with family or friends. Support from your friends can help you stay on track with your healthier habits.
Other Tips for Staying Healthy In the Summertime
Stay Hydrated: In the hot summer months, it is particularly important to drink plenty of fluids throughout the day. If you get tired of drinking plain water, infuse it with fresh fruit or vegetables to add flavor.
Exercise in the Cooler Hours: During the summer, it is best to exercise in the morning or evening when temperatures are lower. Stick to shady areas if you are outdoors; if it is too hot to go outside at all, work out at the gym or in an air-conditioned building.
Wear the Right Clothing: When the weather is hot, wear light-colored, lightweight, loose-fitting clothing. This allows sweat to evaporate and helps keep you cooler.
Protect Your Skin from the Sun: When the weather warms up after a long, cold winter, the sun on your face feels good. However, too much sun exposure is bad for your health. You can help prevent skin cancer and slow skin aging by applying sunscreen frequently and liberally, as well as by covering up with a hat, sunglasses, and protective clothing if you are in the sun for extended periods.
Indulge in Moderation: Summer is a time for vacations, outdoor barbecues, and pool parties — not the best time to watch what you eat. Instead of depriving yourself of the things you enjoy, simply partake of them in moderation.
Review Your Health Insurance Policy: With fun in the sun and outdoor activities, accidents, injuries, and illnesses can occur. Our agency will be happy to review your health insurance policy with you to ensure you have the coverage you and your family need.
Filed Under: Health Insurance
|
Tagged With: Health Insurance